We know we're biased, but we think we're located in the best part of Minnesota. Our area has an incredible amount to offer, starting with the unsurpassed natural beauty of the wilderness that surrounds us.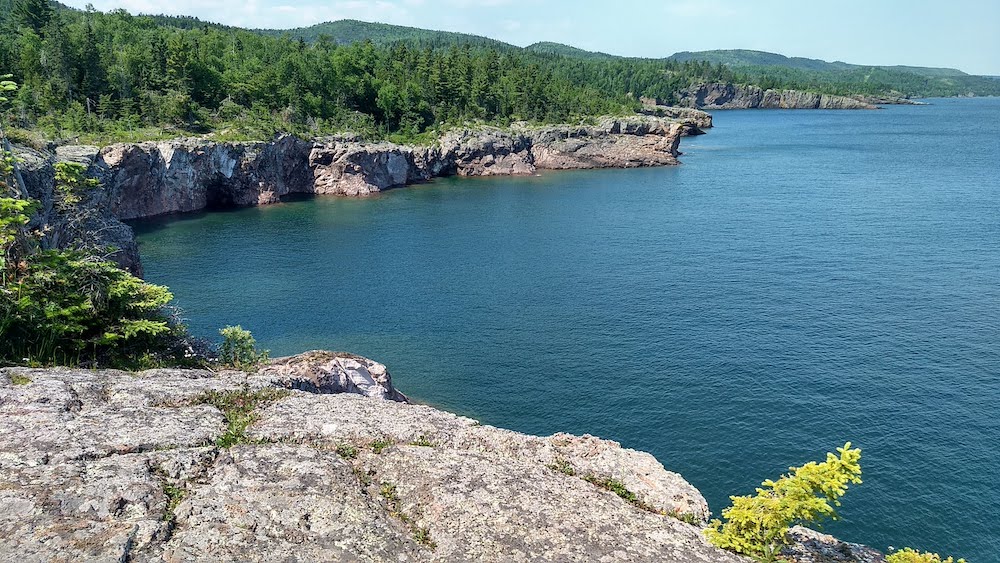 Here are some of your options when looking for things to do:
The Gunflint Trail
The Gunflint Trail is known for its easy access to the Boundary Waters, hiking trails, northwoods resorts and campgrounds, and wildlife.
We usually get the most snow of anywhere in the state, so snowmobilers, cross country skiers and snowshoers love to come to the Trail, too.
Trail Center
Trail Center has delicious home-cooked food, an eclectic and laid-back atmosphere, and uber-friendly staff just 2 miles down the road from Okontoe. Be sure to try one of their famous malts! Take a left out of the Okontoe Road onto the Gunflint. You can't miss it. Their hours change seasonally, so check before you head over.
Loon's Nest Coffee
Brand new in 2022, Loon's Nest Coffee offers several kinds of hot and cold coffee drinks and chais. They're already locally famous for their home-baked cardamom rolls! Open from 7am-2pm daily during the summer season (the rolls sell out, so get there early!). Located just this side of Trail Center on the left.
Honeymoon Bluff Trail
The Trail's most beautiful sunset spot is just 5 miles away from us. Go out to the Gunflint, hang a left and take your first right on the Clearwater Road. Drive down about 4 miles and you'll see the trailhead on your left, across from Flour Lake.
A rigorous but short climb (3/4 mile out-and-back) takes you to the top of the bluff overlooking Hungry Jack Lake. Stunning!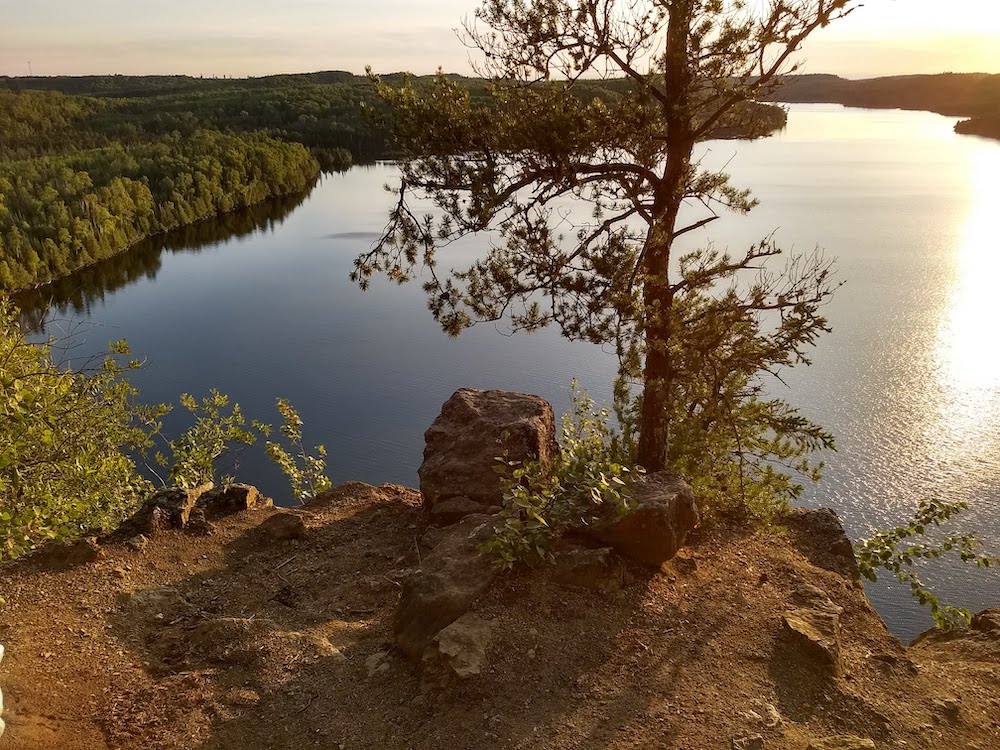 Caribou Rock Trail
If the sunrise is your thing, then head to the Caribou Rock Trail early in the morning for that. Located on the Hungry Jack Road (on the right just before Trail Center), keep to the left and you'll see signs for the trailhead.
While you can take this all the way to Stairway Portage (see below) for a challenging 7-mile out-and-back hike, just about 1/4 of a mile in is a gorgeous overlook above Bearskin Lake.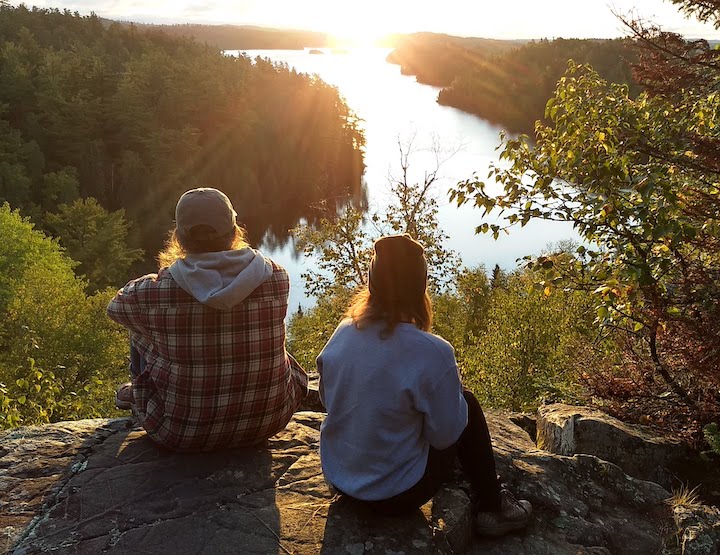 Stairway Portage Day Canoe Trip
The Trail's most beautiful day canoe trip is just a 15-minute drive from Okontoe. You'll need to bring your own canoe(s) or rent from either Hungry Jack Lodge or Hungry Jack Outfitters (Okontoe's canoes must stay on our property).
This is a fun half-day adventure suitable for all ages. The route takes you into the Boundary Waters to the portage between Duncan and Rose Lakes. There's a beautiful little waterfall there, great picnicking spots and refreshing swimming in Rose.
If you're not experienced, rent from one of the Hungry Jacks mentioned above and they'll take care of you with maps, permit and all your canoe gear.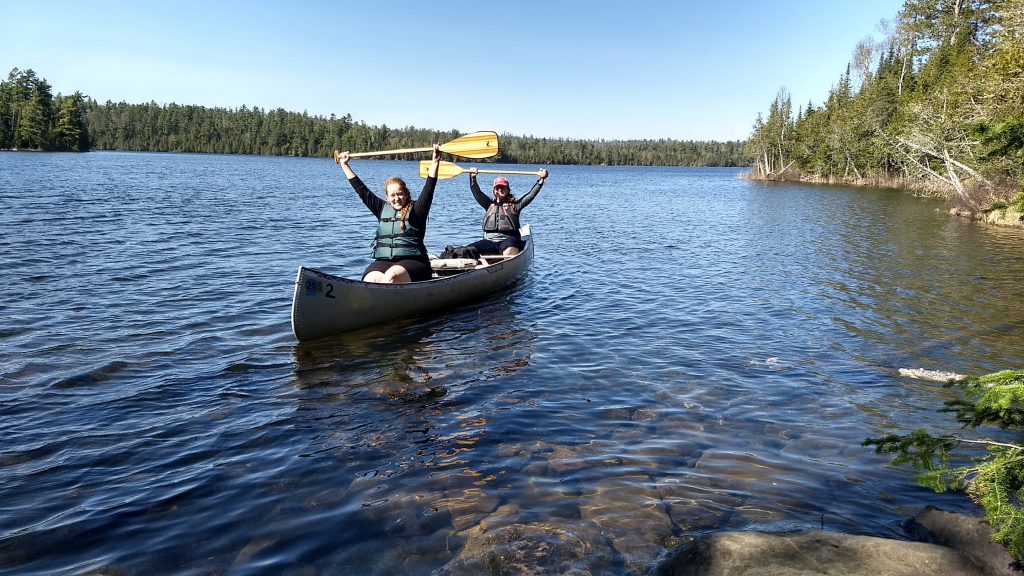 Fishing
You're welcome to fish on our lakes, or take your pick of the hundreds of lakes in our area! If you clean your fish at your campsite BE SURE you bag up the guts and place them in a trash container. Don't toss them on the shore! This is bear country and we don't want to tempt them into our campground.
Hiking
There are many very nice hikes with trailheads on the Gunflint. Check out: "8 Short & Scenic Gunflint Trail Hikes."
The Visitor Center in Grand Marais has all kinds of printed info on hiking on the Trail, too.
BWCAW Canoe Tripping
Okontoe doesn't have an outfitter's license, so our canoes need to stay on our three lakes (Bow, Quiver, Shoko). If you'd like to plan a canoe trip, there are several fine outfitters on the Gunflint Trail you can go through.
Many people will stay at Okontoe the night before they head out and the night they return from the BWCAW. You're welcome to do that, too!
Chikwauk Museum
This historic old fishing lodge-turned local museum is at the end of the Gunflint Trail. The Chikwauk folks have done a superb job showcasing the history of the Gunflint—you'll even find some photos and mentions of Okontoe!
The Blueberry Hill hike trailhead is near the main parking lot there, and offers spectacular views of a long arm of Saganaga Lake and the surrounding forests and hills. It's just 2 miles out-and-back, but quite steep in places, including the last stretch to the summit.
Grand Marais
Grand Marais, voted "Best Small Town in America" recently, is a hugely-popular summer and fall destination. It's location on Lake Superior, its natural harbor and Artist Point, its many shops, galleries and eateries all make it a very fun place to spend some time.
There are several festivals and special events in town throughout the summer, including July 4th festivities, art shows, North Shore Paddling Festival and Fisherman's Picnic.
The weather "in town" can be very different from here at Okontoe any time of year. It's usually cooler in the summer, due to its location on the Lake. Bring along some warm clothes just in case.
World's Best Donuts
Open seasonally, World's Best Donuts opens at 6:30 am and closes at 4:00 (3:00 on Sundays) or when they run out of donuts, whichever comes first. Prepare to stand in line with 50-70 others, or order ahead and skip the line!
Artist's Point & Lighthouse
Grand Marais' most beautiful natural feature is Artist's Point, past the Coast Guard Station. You'll definitely want to spend some time walking out there. The walk to the Lighthouse is very cool, too. It can change every day, depending on Lake Superior's mood.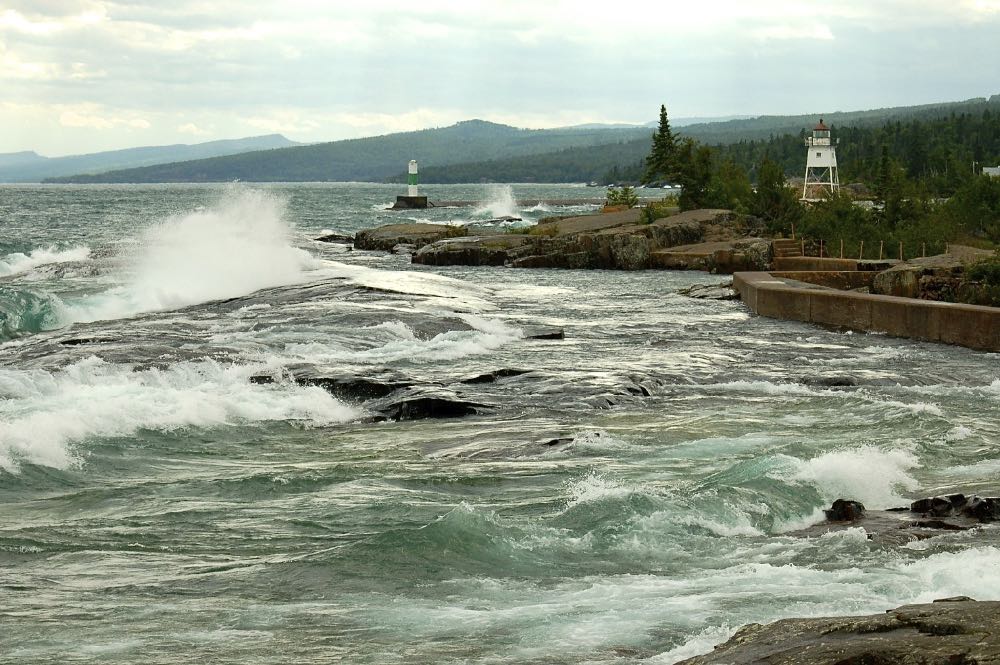 Cook County Visitor Center
Loads of maps and brochures and friendly staff will put you on the right track for whatever you love to do. On Highway 61 between Java Moose and Dairy Queen.
See Visit Cook County for more about Grand Marais and the other area communities.
Lake Superior's North Shore
There's way more to do along Minnesota's section of the North Shore than you can possibly fit in during a summer…or even several summers. The Shore hosts several state parks, hundreds of miles of hiking and biking trails, and restaurants, resorts and gift shops galore.
Here are just a few samples:
Canal Park in Duluth
The town of Two Harbors
Gooseberry Falls State Park
Split Rock Lighthouse State Park
Black Beach in Silver Bay
Tettegouche State Park and Palisade Head
The towns of Beaver Bay, Tofte, Schroeder and Lusten
Oberg Mountain hike (famous for its fall colors)
Temperance River State Park
Cascade River State Park
The Superior Hiking Trail (from Two Harbors to Canada)
See North Shore Visitor website for all kinds of info.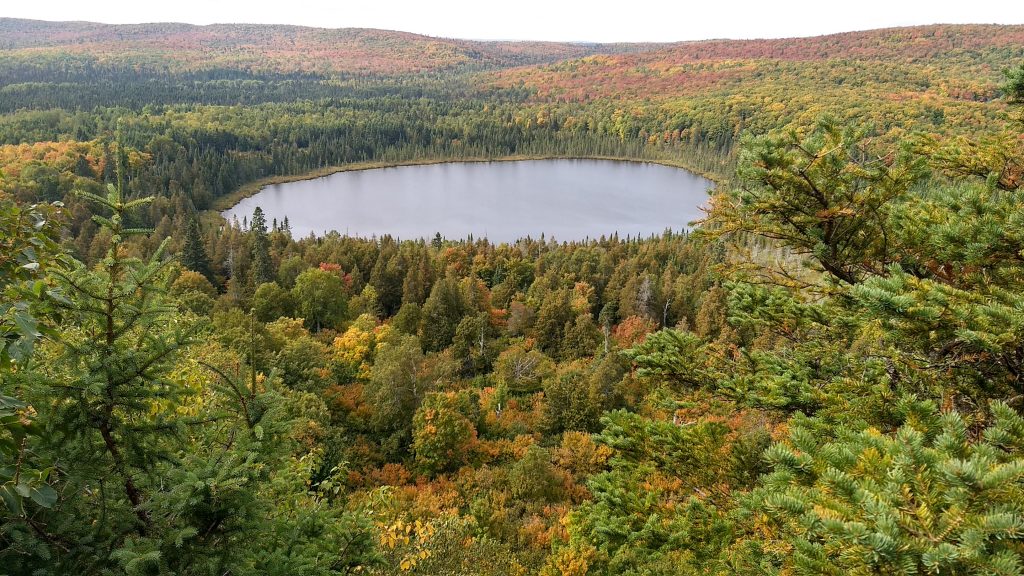 Grand Portage
A day trip to the Grand Portage area is well worth it. This is at the very tip of Minnesota's Arrowhead region, and is within the Grand Portage Reservation. It's about a 90-minute drive from Okontoe—down to Grand Marais and northeast on Highway 61.
You'll pass Judge Magney State Park with the Devil's Kettle hike, which is a great stop. You'll also pass Naniboujou Lodge with its stunning Cree Indian-inspired main dining room.
In Grand Portage is the Fur Trading Post and Indian Museum for a look into the former voyageur days. The hike to Mount Josephine gives you spectacular views of Lake Superior, including Isle Royale on a clear day.
Keep going northeast on 61 and just before you reach the Canadian border (the Border Station is within sight) is Pigeon River State Park. An easy hike there takes you to High Falls, a 130-foot waterfall we share with Ontario.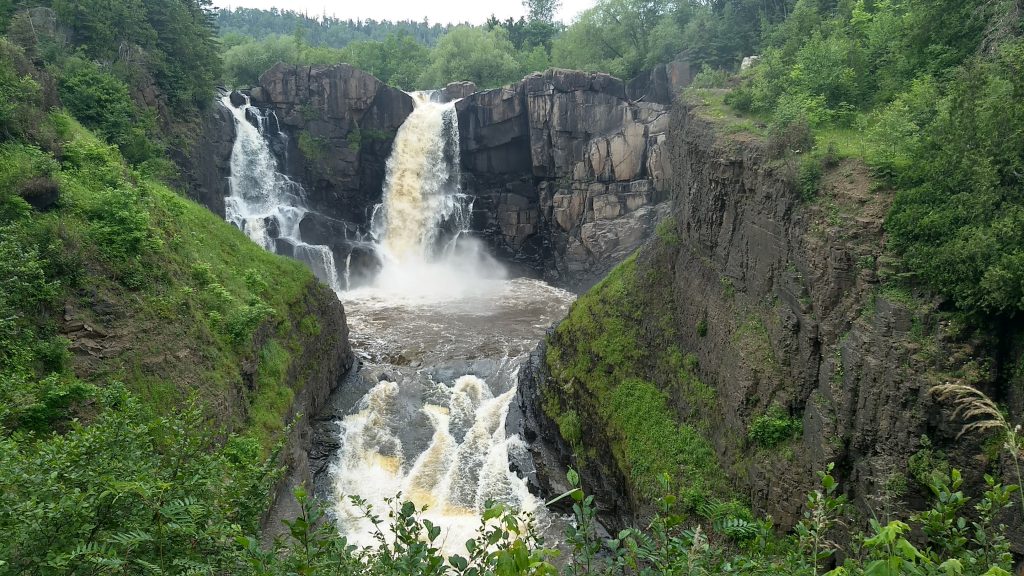 These suggestions should get you started—Enjoy!
Adventurous Christians
Our next-door neighbor on Bow Lake is Adventurous Christians. Co-founded by John Patten back in the 70s, AC now is the wilderness camp of Covenant Pines Ministries.
All the buildings on the right side of the driveway coming off the Gunflint Trail belong to AC, until you get to the Patten Homestead. At that point, the AC property goes off to the right and the Okontoe property continues straight ahead.
The staff at AC spends their summers guiding canoe trips with youth groups, adult groups and others into the Boundary Waters. In the winter, they host retreats of all sizes in their beautiful Portage House and main Lodge.
Though they mainly work within the Evangelical Covenant Church (ECC), they're happy to host your group for a summer canoe trip. They also host winter retreats, and do a wonderful job feeding everyone and offering many different guided outdoor activities. It's rustic (outhouses and no showers), but the Gunflint Trail in the winter is magical!
For more information about AC and what they offer visit their website.
(Photos courtesy of Sharon Brodin)
Here's more…