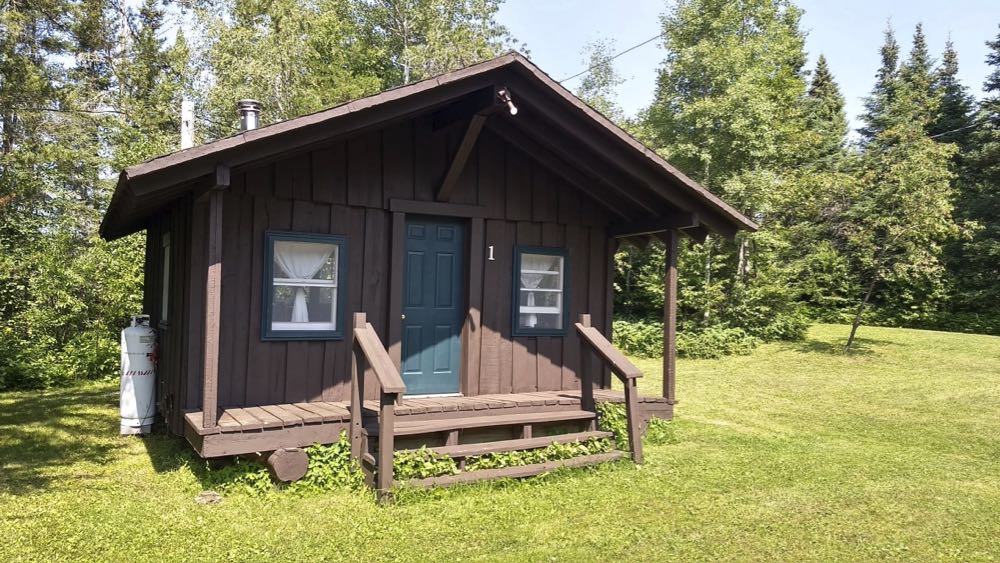 We have several rustic retreat and camping cabins waiting for you here at Okontoe.
These wilderness cabins are available for rent May through October.
By "rustic" we mean:
NO indoor plumbing/running water. You'll use a nearby outhouse. The Shower House is a 5-10 minute walk or quick drive away.
Bring your own bedding.
They all have electricity and a wood stove, if needed. Ceiling fan, no AC.
Kitchenette with 5-gallon water cooler, small oven/stove and fridge, coffee maker, cookware and dishes.
We are a Christian non-profit ministry that offers cabin rentals. We have a family-friendly atmosphere and a no-alcohol policy.
Please keep in mind our Quiet Hours from 10:00 pm to 8:00 am! There are others in the Campground besides your group.
CELL SERVICE/WI-FI: There's no cell service on our section of the Gunflint Trail and there's no wi-fi available in Camp. Enjoy the relaxed pace of life here and soak in the peace and quiet. An occasional media fast is life-giving!!
DOG POLICY: Well-behaved dogs are welcome at Okontoe under the following guidelines:
Must be leashed and/or under your direct control at all times.
May not be left unattended outside your cabin, or inside your cabin unless it's confined to a kennel.
If your dog barks excessively or if it runs at-large and is bothering our other guests or staff, we may have to ask you to leave.
Okontoe is surrounded by thousands of acres of wilderness, including right up to our property line. There's abundant wildlife in the area, including bears, wolves, foxes and eagles—all of which would see a small dog running loose as a potential meal. You're responsible for your own pets.
Discipleship Camp (DC)
The entire DC is available for rent May through October for a family reunion, retreat, youth camp or other large group. It includes Cabins 1-6. It can sleep up to 20 adults in the cabins. You're free to bring few tents if needed for additional sleeping. Bring all your own bedding!
The Dining Hall comes with the DC rental. This includes a full industrial kitchen with dishes and cookware, industrial oven/stove, refrigerator and freezer space, serving area and indoor dining area for approximately 40 people. You're responsible for your own meal preparation, cleanup and removing all food items/leftovers when you leave.
There's hot and cold running water in the kitchen during the summer months, plus a cold water spigot outside. Two outhouses are nearby. The shower house is available in the campground, a 5-10 minute walk.
FEE: $340/night • Call (218-388-2285) or email us (info@okontoe.org) for the details (no online reservation for either the whole DC Camp or for the Dining Hall).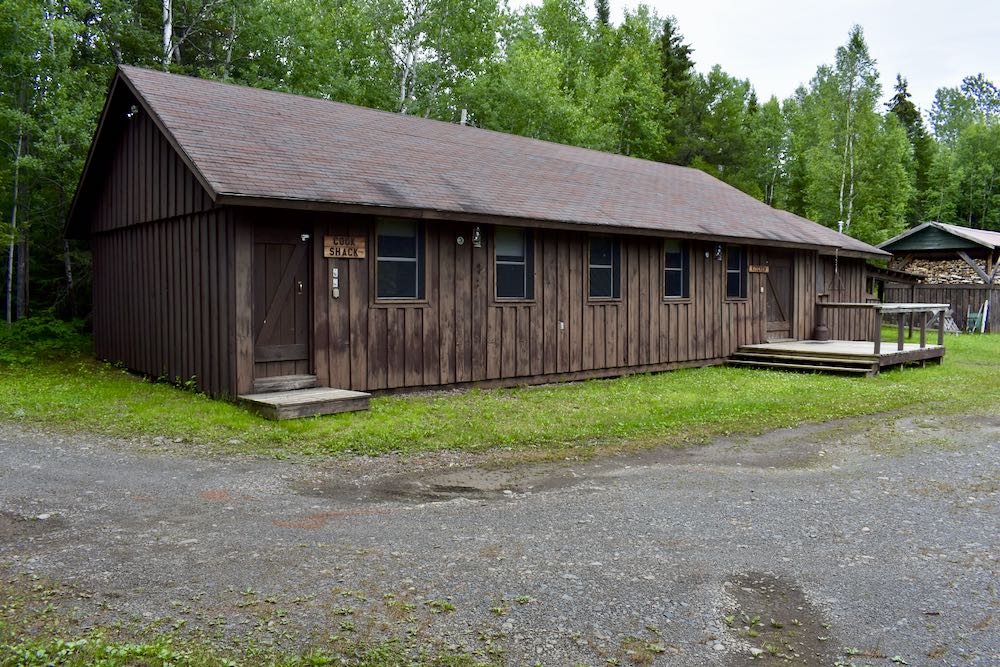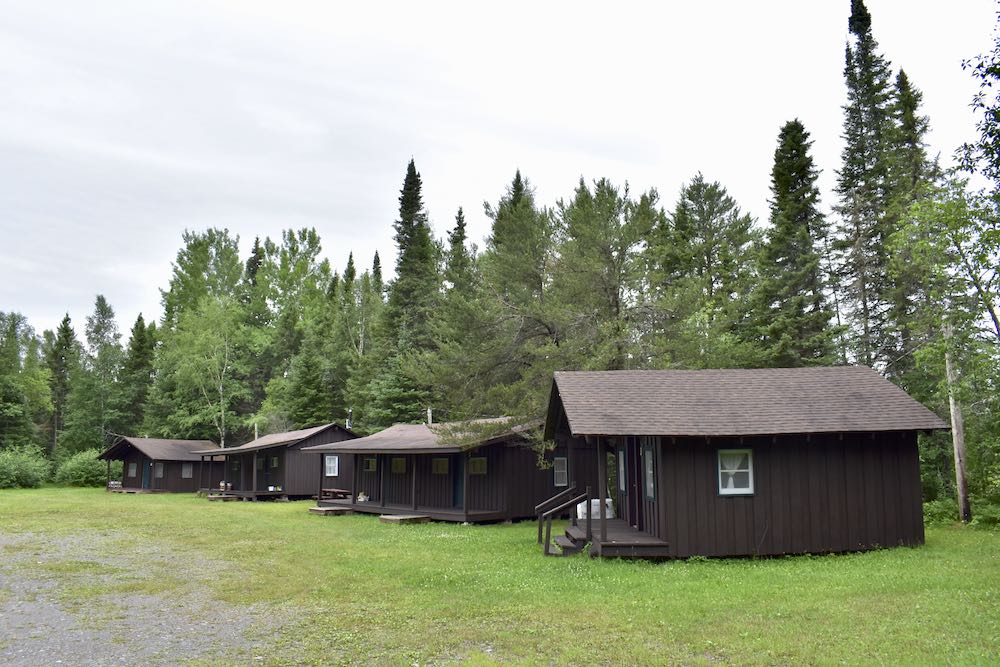 Discipleship Camp (DC) Individual Cabins & Bunkhouses
Cabin 1 and Cabin 6
Cabins 1 and 6 are 1-room cabins with a queen-size bed and sofa. They each have a small fridge, small gas stove with oven, cookware, dishes and coffee maker. Wood stove heat, if needed. 2 adults or 2 adults & 1 child.
Fee: $55/night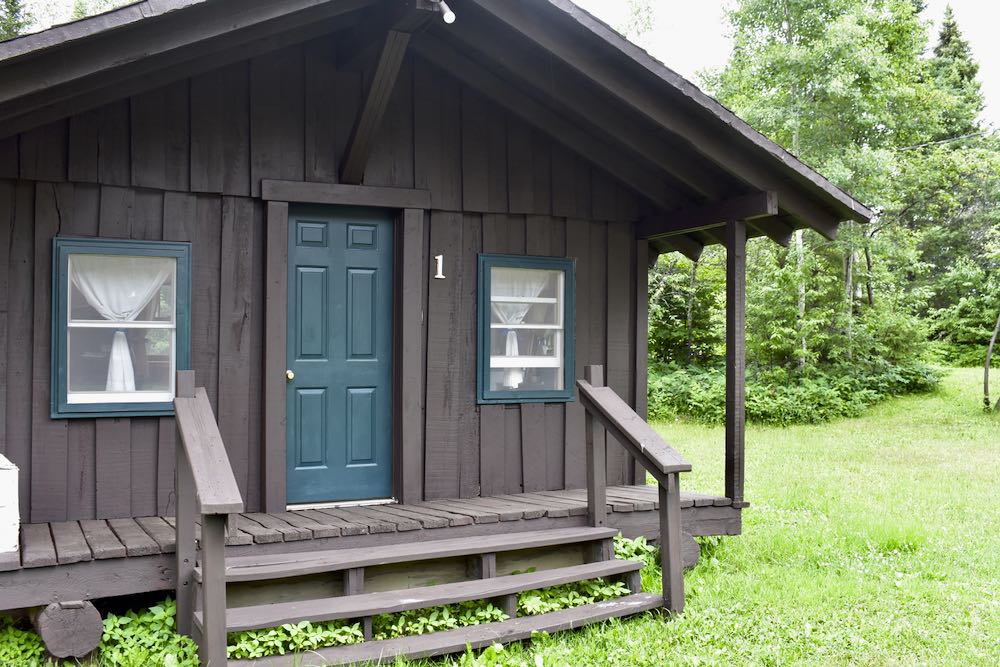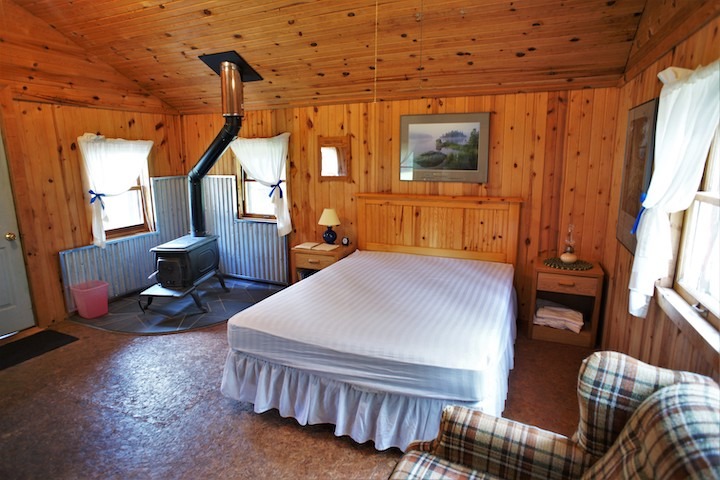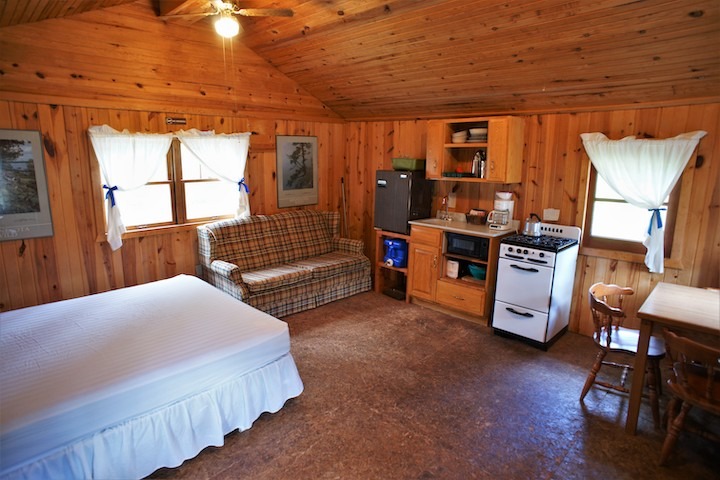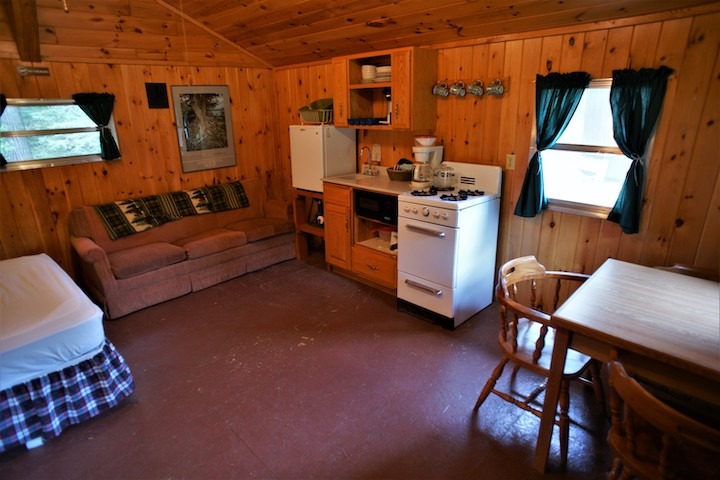 Bunkhouse 2/3 and Bunkhouse 4/5
Bunkhouse 2/3 and 4/5 each have two rooms. One room has a queen size bed and a kitchenette. The other room sleeps 6 with either twin beds, twin bunks or queen bed, plus additional seating. These cabins have a full size fridge, a gas stove and oven, dishes and a coffee maker. Wood stove heat on the kitchenette side, if needed (firewood included). 8 people can sleep comfortably in this family-style bunkhouse.
Fee: $80/night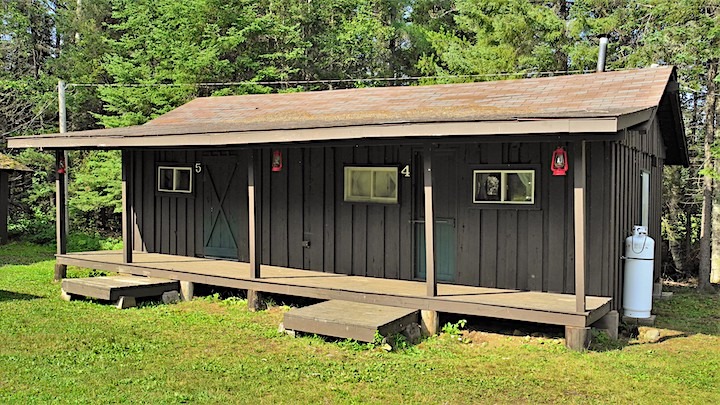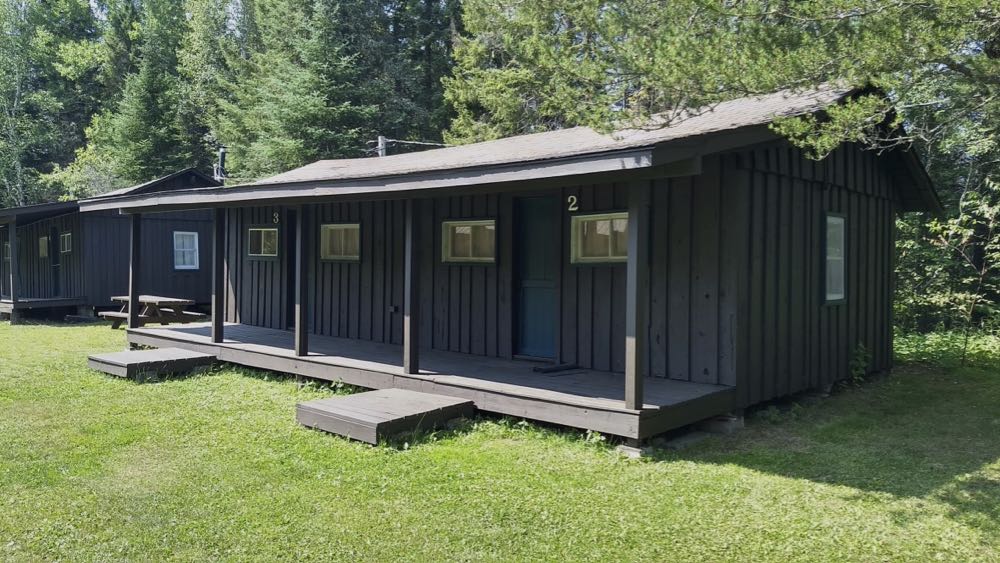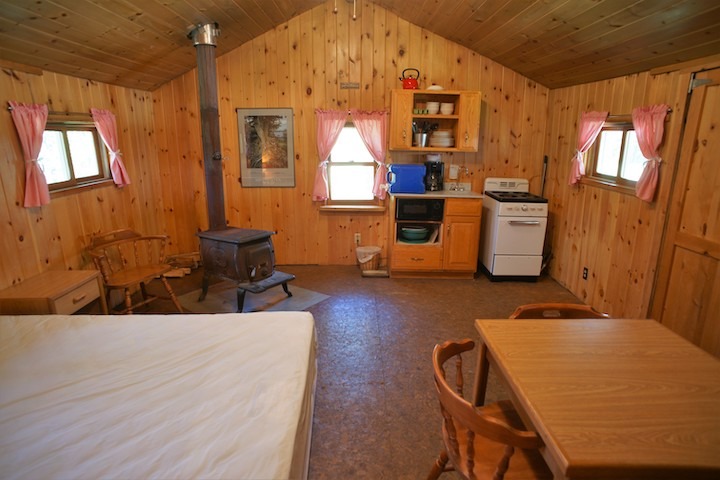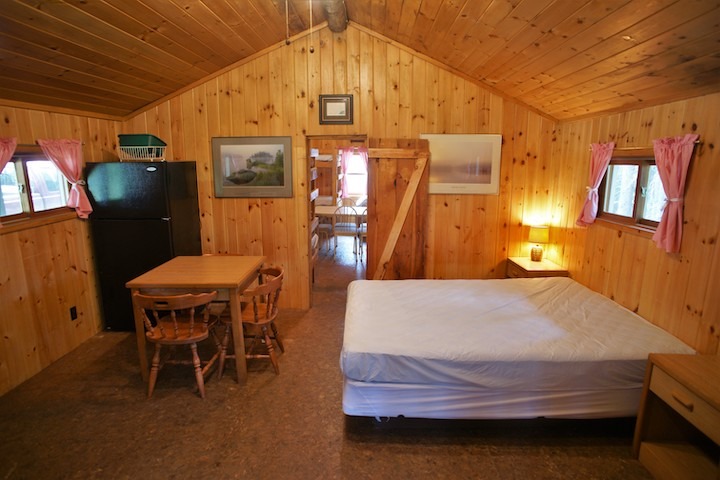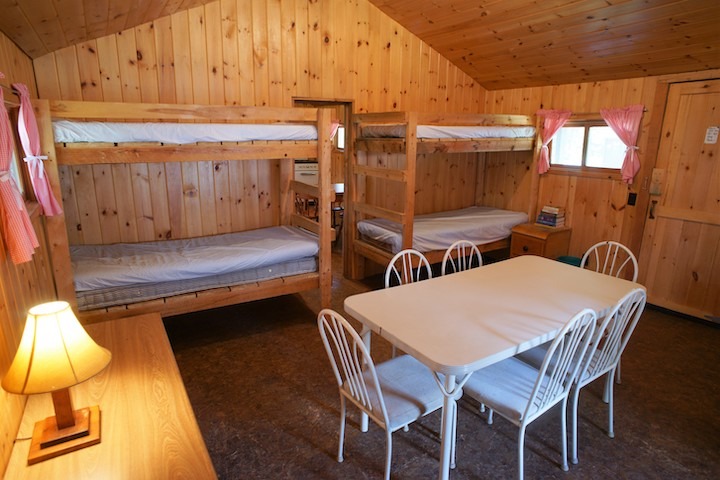 The Shower House in the campground is available for your use. The Cook Shack is available for individual cabin renters for $70/day. If renters of more than one cabin would like to split the cost to use the Cook Shack, we'll work that out. Shared outhouses are nearby.
*NOTE: The Guest House will be used for staff housing starting summer 2022. It will no longer be available for rental.
Garden Bunkhouse
The Garden Bunkhouse is a quaint cabin with a front porch and great views of Bow Lake. If you like being in the middle of the action, this is perfect for you. Small kitchen with cold running water in the summer season. One bedroom with a double bed. Living room with a couch and kitchen table & chairs. Outhouse nearby. Wood stove heat, if needed. 2 adults or 2 adults & 1 child.
The Shower House is a 3-minute walk one way, the Canoe Landing is right across the campground road, and the Chapel is a 1-2 minute walk the other way.
Please bring your own bedding and kitchen towels/washcloths. No linens provided.
Fee: $70/night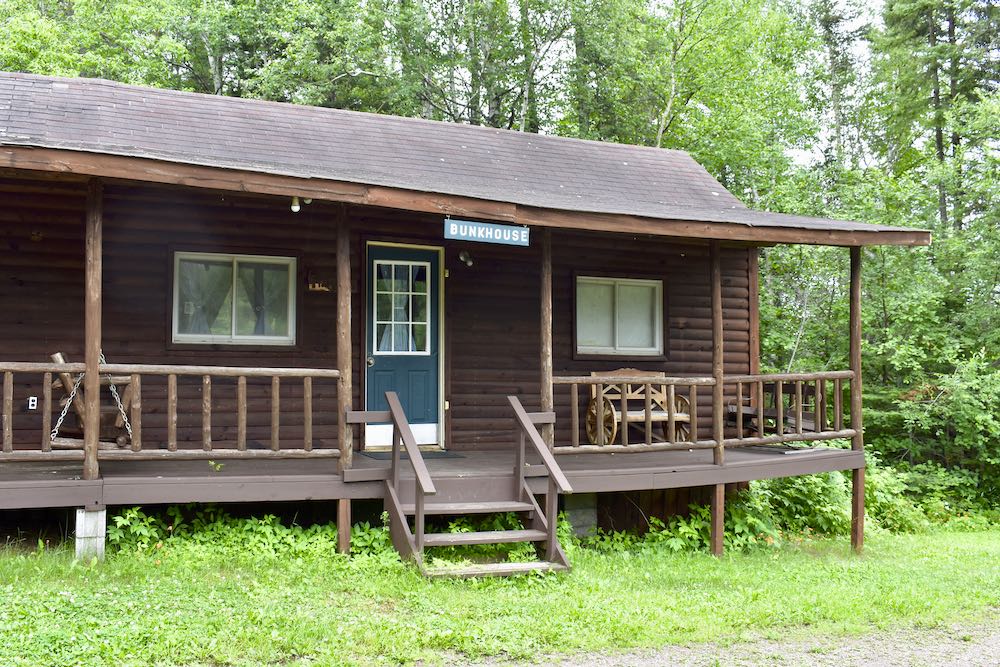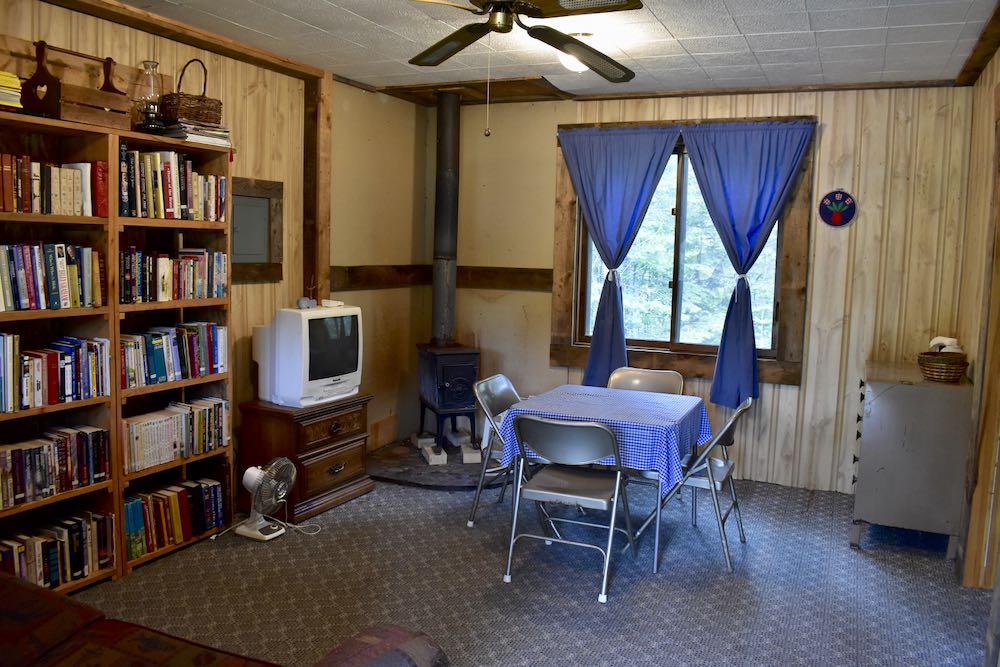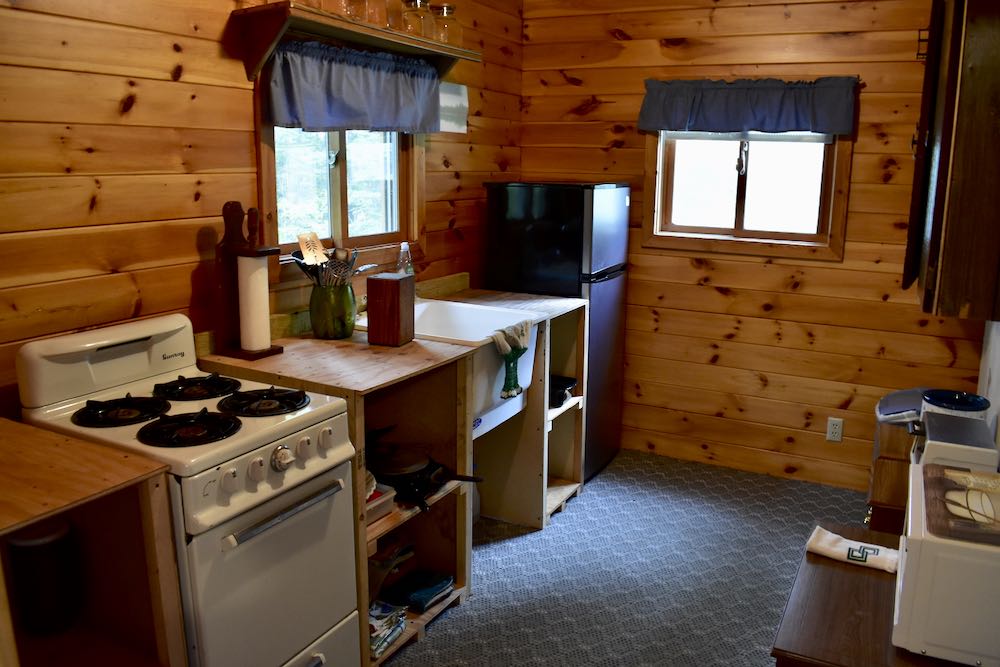 Are You a Full-time Minister or Missionary?
If you are, we want to bless you! You're welcome to fill out our scholarship application form for a reduced rate for our cabins or campsites.
Please email: info@okontoe.org for more information.
We are a Christian non-profit ministry with a campground and retreat cabins. We welcome all who respect our values. Our property is alcohol-free and family-friendly. Quiet hours are 10:00 pm – 8:00 am.