By Nancy Patten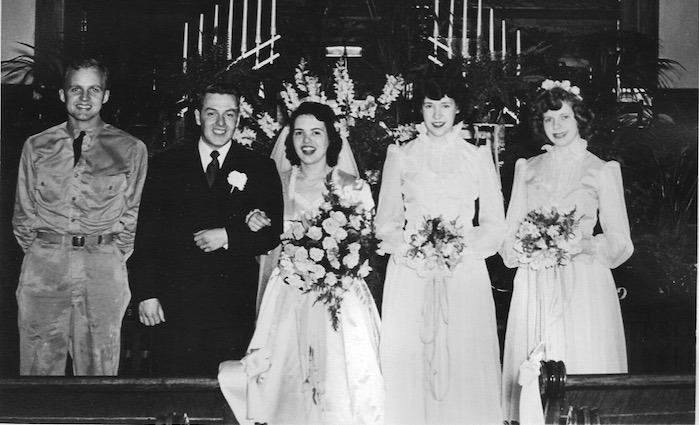 Today, May 13th, was the day, 76 years ago, that my parents were married, in the midst of WW II and a thunderstorm. Their groomsman was wearing his military uniform that had been soaked by the rain. William and Wilma Barr—Papa and Mama Barr to many of you who knew them and were touched by God through them.
There were many things my Dad said that I remember like they were yesterday. The Lord poured much wisdom through him to all of us because He was so totally surrendered to Jesus. Dad loved Jesus with a passion. He was an amazing example to me through my years as his daughter.
There is one particular statement he prayed very often that has become a big part of my life with Jesus as I have walked in things that were hard to understand. He would pray, "Lord, help us to see from Your High Tower."
Oh, how we need to see that way in these difficult and uncertain days of this pandemic we are all in. Each of us is facing many uncertainties and challenges…many the same, many very different.
The Streams in the Desert reading for today, my parents' anniversary, reminded me of Dad's prayer:
"The way to peace and victory is to accept every circumstance, every trial, straight from the hand of a loving Father; and to live up in the heavenly places, above the clouds, in the very presence of the throne, and to look down from the glory upon our environment as lovingly and divinely appointed."
Thank You, my Heavenly Father, for reminding me of my earthly father, Your son, Bill. Thank You that he is part of the "great cloud of witnesses," along with Mark and all Your other faithful sons and daughters who have joined You in Your home. May we always remember to seek Your perspective in each one of our circumstances and trials, for YOU ARE FAITHFUL, my Father.
"Therefore, since we are surrounded by such a great cloud of witnesses to the life of faith, let us strip off every weight that slows us down, especially the sin that so easily trips us up. And let us run with endurance the race God has set before us.
"We do this by keeping our eyes on Jesus, the Champion, the originator and perfecter of our faith. Because of the joy awaiting Him, He endured the cross, disregarding it's shame. Now He is seated in the place of honor beside God's throne. Think of all the hostility He endured from sinful people; then you won't become weary and give up." (Hebrews 12:1-3, NLT)